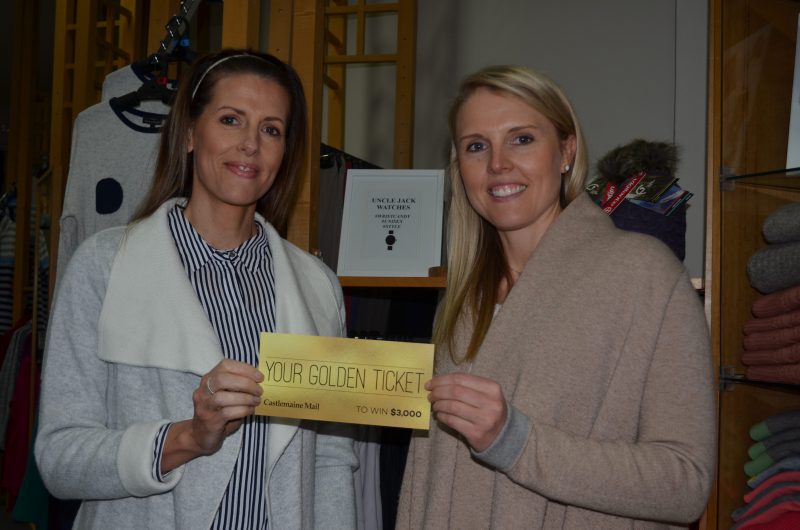 You only have a few days left to enter our 2021 Castlemaine Mail 'Golden Ticket' promotion to win a share of $5000 to spend at 21 local businesses!
We will be drawing the lucky winners next Wednesday September 15 at 10am and all entries must be in to our office at 13 Hargraves Street by next Tuesday September 14 at 4pm.
Mostyn Street retailers Miss Maisie, Beehave, Mensland Castlemaine and Taylors Home Centre are all proud to be part of the 2021 buy local promotion.
Miss Maisie Castlemaine manager Sue Smalley said its been another tough year for local businesses.
"Unfortunately the latest lockdown saw us forced to close our doors again. We don't have an online option as for us its important that our customers can come in store and try on the clothes for themselves to ensure they great the right fit.
"At Miss Maisie we currently have so many beautiful pieces arriving for Spring and Summer, we cannot wait to reopen Friday and give all our gorgeous customers a big welcome," she said.
Beehave proprietor Robyn Hansford is also excited to reopen today.
"We have been so fortunate with all the local support we have received during lockdown. It's so very important to keep shopping local. There has been lots of new season stock arrive in store during lockdown, so we have lots of tempting goodies," she said.
Mensland Castlemaine operators Renee Ramsey and Lauren Barker also plan to reopen their doors today. The sisters said they have appreciated the ongoing support they have received from the local community during the lockdowns.
"We are very grateful for our amazing community. We can't wait to welcome everyone back and we have lots of beautiful new stock in store," Lauren said.
Taylors Home Centre celebrated 40 years in business in June and has continued to offer online sales and click and collect options during the latest lockdown.
Proprietors Julie and Shane Tunn said they are delighted to be able to reopen their doors today.
"We urge the community to keep our town alive by shopping local. The more we support local businesses the more products and services we can offer," Julie said.