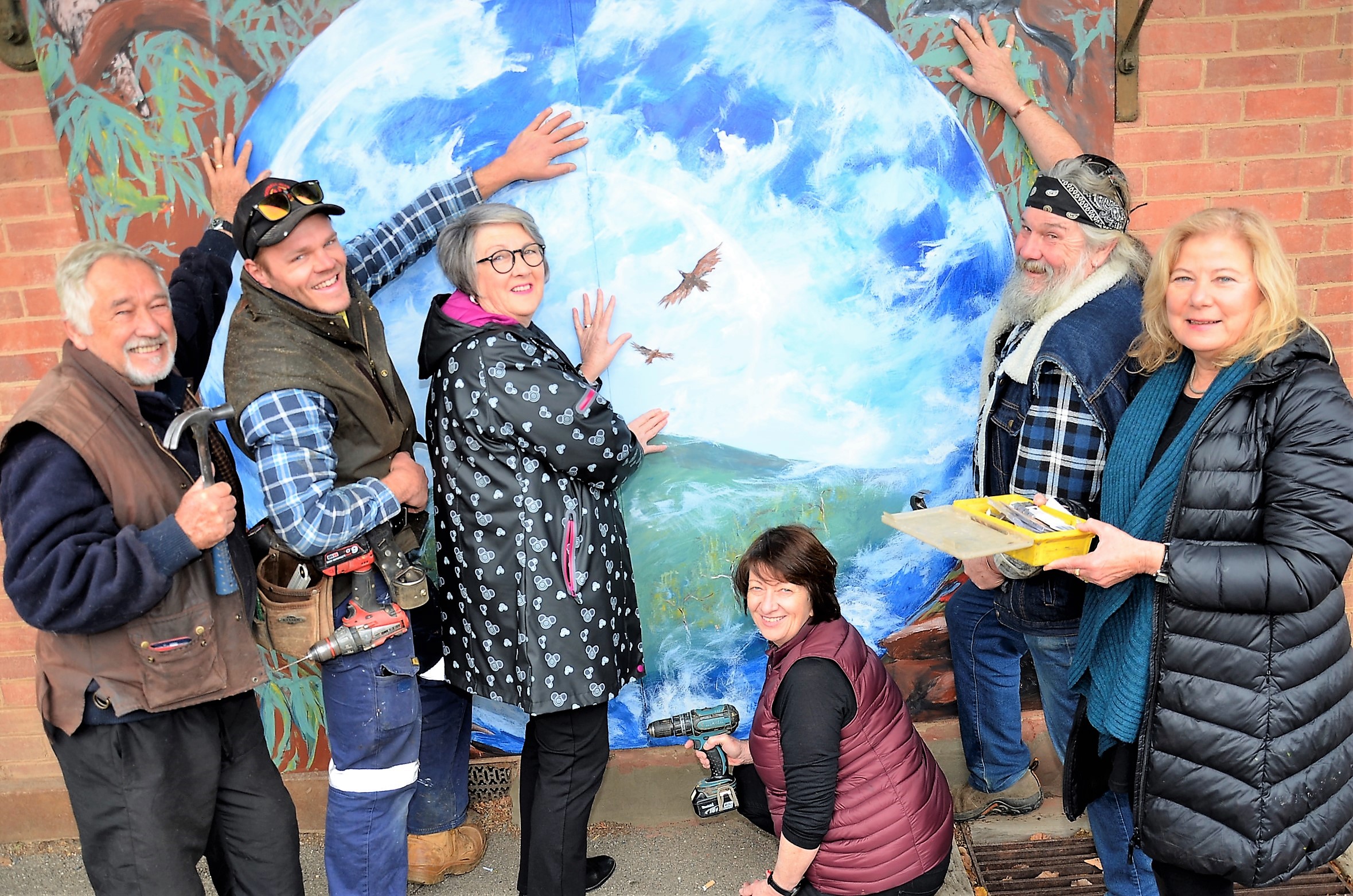 There's the local woman who used to serve tea to kangaroos – or so Maldon folklore has it.
Then there's the legendary visit paid by wartime prime minister Billy Hughes, the local nurse who's ministrations gained her hero status, and the local writer Henry Handel Richardson – whose real name was Ethel.
All are among the local myths and legends represented in some bold new street art newly installed in Maldon to coincide with the town's Winter Wonderland program.
Local native animals like the powerful owl and the phascogale, important to the Dja Dja Wurrung, are also represented in the art panels installed on McArthur's Corner wall at the intersection of Main and Dolphin Streets and across the road on the Maldon Hotel.
The art panels are the collaborative work of seven local artists with Maldon Artist Network MANet.
"They've been commissioned by Maldon Inc Traders' group," says Maldon Artist Network's Jenny Merkus, one of the participating artists.
Jenny says some of the work depicts Maldon prior to European settlement and aims to portray some of the magic of that time.
She says the town's history museum was among sources consulted to help unearth local myths and legends depicted.
"Apparently there was a woman who use to give tea to kangaroos, then we've got Bill Hughes – who was sometimes called The Rat who visited Maldon and entered local folklore so he's depicted as a rat on a speakers' box," Jenny says, mentioning some of the legendary figures depicted.
Others include the Maldon writer, Ethel Florence Lindesay Richardson (1870-1946) who wrote under the pen name Henry Handel Richardson.
There's a particularly notable local golfer and much-loved yesteryear nurse Jessie Bowe who once worked at the local hospital.
Local artists who created the works include Bernice Steinfort, Ted Waayers, Catherine Tait, Allex Hall, Andrea Ebsworth, Jenny Merkus and Norm Close.
"Even though we've all got very different styles it all come together really well," Bernice says.
The work will remain on display in the streets until August 6.