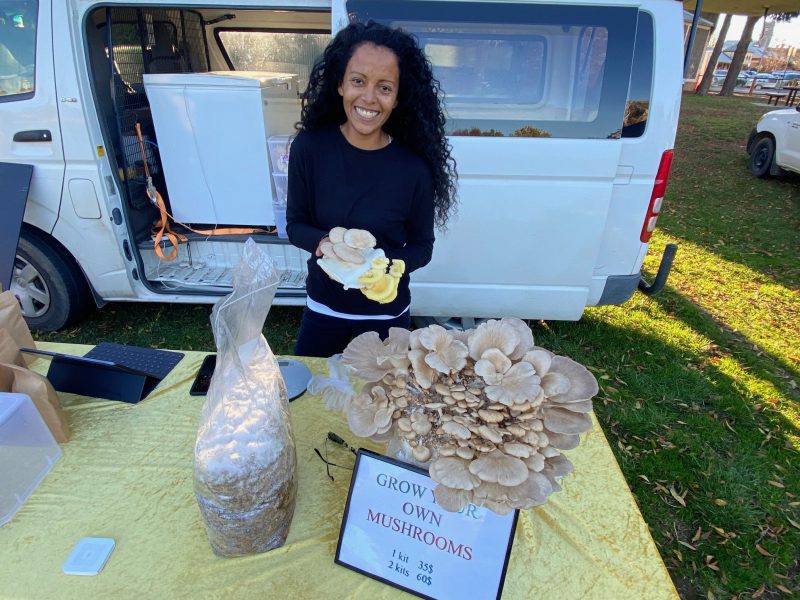 'So Mush Goodness' is the name of the new business started by an innovative couple who bring their beautiful mushrooms to Castlemaine every Wednesday to the Castlemaine Farmers Market. They look like art installations with their extraordinary shapes and colours.
Ana (originally from Columbia) and Paola (from Italy) started their business of growing your own mushrooms because they believe in the health benefits as well as the delicious flavour. They find that people who want to reduce the amount of meat in their diet use mushrooms as a great alternative.
Ana said they began growing, researching and experimenting with mushrooms around two years ago and things grew from there.
"It took some time to get established so that we were producing an amount where we could sell to the public but we officially started our business around 12 months ago.
"Due to covid many markets were closed and Castlemaine Farmers Market was the first market we were able to attend. We have received magnificent support from the local community and enjoy visiting Castlemaine every Wednesday and for the monthly market," Ana said.
The Daylesford couple sell a variety of fresh mushrooms including Shiitake, Pioppino, Oysters and King Oysters and also 'Grow your own' kits so that you can grow your favourites at home.
The pair are also fascinated in the medicinal benefits of mushrooms with some varieties credited with improving memory, clearing toxins and enhancing circulation.
"It's something we are exploring more deeply and we hope to move into this area too in the future to share the health benefits with our clients," Ana said.
Check the stall out next time you are at the market and Ana will explain the different varieties they have and how to grow them successfully.