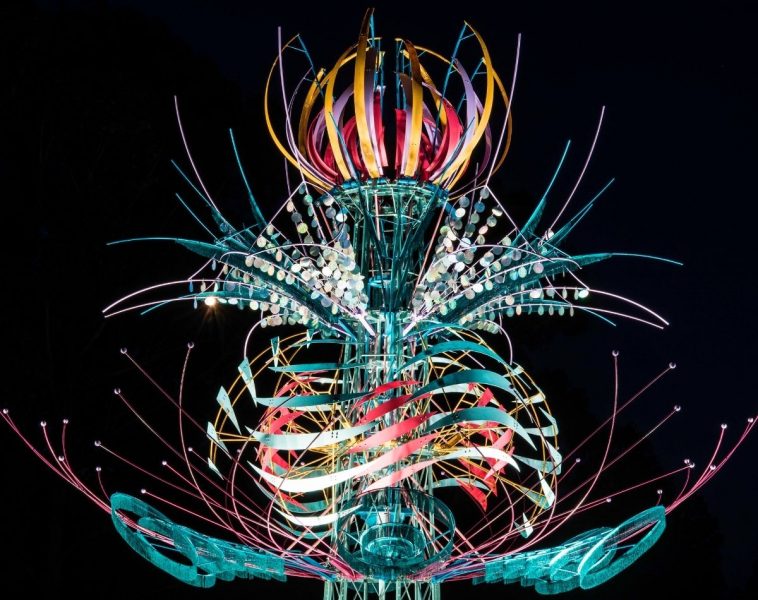 A towering moving sculpture, light shows and late night trading lead Mount Alexander Shire Council's Christmas celebrations.
From Wednesday this week until January 4, Taradale artist, Alex Sanson's towering kinetic sculpture Spherophyte, will fold and unfold in hypnotic motion in Victory Park, Castlemaine.
With 48 moving arms, the 6.5 metre sculpture inspired by meditative breathing will be in the shire's commercial centre for the first time, following installations at Lot 19 in 2016, White Night Melbourne 2017 and Ballarat's Summer of Fun 2021.
Castlemaine's historic Market Building will also become a giant screen, displaying digitally projected drawings by senior students from Castlemaine North, Winters Flat and Chewton Primary Schools.
And Maldon Primary School students' drawings will be projected, along with a film of Alex Sanson's work, from Maldon's award-winning Old Bank Corner, recently declared national Best Regional Main Street.
Castlemaine artist Jim Coad has created the projections.
Council is also partnering with Business Mount Alexander to boost Castlemaine's night-time economy in the lead up to Christmas with late night shopping this Friday December 10 and 17 until 8pm.
Castlemaine's new-look Village Square on Frederick Street, will be abuzz with free entertainment, programmed by the Castlemaine Fringe Festival.
Council is also supporting The Rotary Club of Castlemaine's Christmas carols on Friday December 17 at 7pm in the Castlemaine Botanical Gardens.
The annual Christmas Twilight Market will also take place on Saturday December 18 from 3-7pm at Western Reserve.