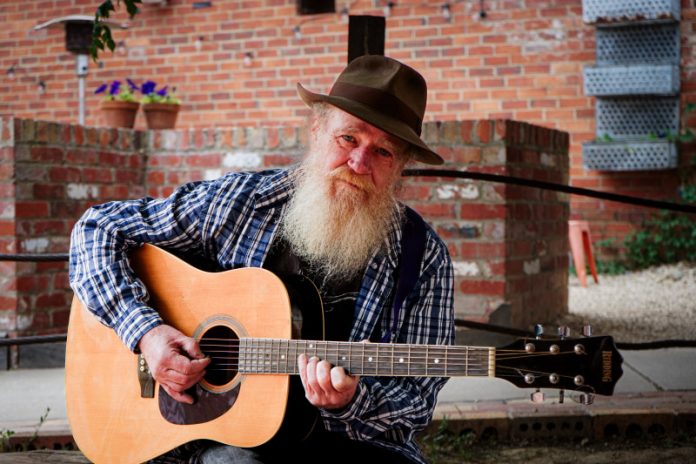 A chance meeting on a train has led to a concert to raise money for a legend of hospitality and man of music and art who has been doing it tough.
Daniel Keohan is a long-time hospitality stalwart and has worked at some of the more highly regarded establishments of the day, including the world-renowned Berowra Waters Inn in Sydney, Lake House in Daylesford, L'escargot in London and many more.
Daniel, who now busks for a living, met Shedshaker Brewing's Nick Minto on the train, and the two got to talking about the challenges Daniel was facing, and an idea was born.
That idea? A fundraising concert of local musicians and an art sale featuring Daniel's works. Daniel's house needs substantial repair and busking isn't going to cover the costs of materials and tradies, so a night of song, storytelling and more is happening this Saturday November 11 at the Taproom.
"The bathroom is not good – the tiles are falling off, the plaster is cactus, the floor is about to fall through, the shower works but it is only making things worse, the ceiling has to go," Daniel said.
For Nick, meeting Daniel has given him a cause to focus on at a time where he has been struggling as well.
"We all have times in our life where we just need a hand to get back up and being able to offer that hand to Daniel, a new friend, is also helping me through a tough patch with my own health," Nick said.
Music is close to Daniel's heart – he has recorded a live album and turned to busking for a living since finishing his last hospitality job, at the Commercial Hotel in Castlemaine.
This job is one Daniel remembers fondly.
"My hospitality days ended at a tired pub called the Comma in Castlemaine," Daniel said.
"What would seem like a spectacular fall from grace was saved by it being in a fascinating place – stories abounded and people were named after Australian fauna.
"There was a bear in there, a dingo, a wombat, a Bruce, a couple of possums, a Bob or two and a Noel who drank port."
A colourful character, a man of wine and song, dad, a new mate – Daniel is a lot of things to a lot of people. This night will help him get back on his feet and his house back in shape. Tickets are $20 and all proceeds of this and art sales go to house repairs.
Tickets are available at https://events.humanitix.com/concert-for-daniel
A GoFundMe page has also been set up where donations can be made at https://www.gofundme.com/f/938dn-daniel-needs-our-help