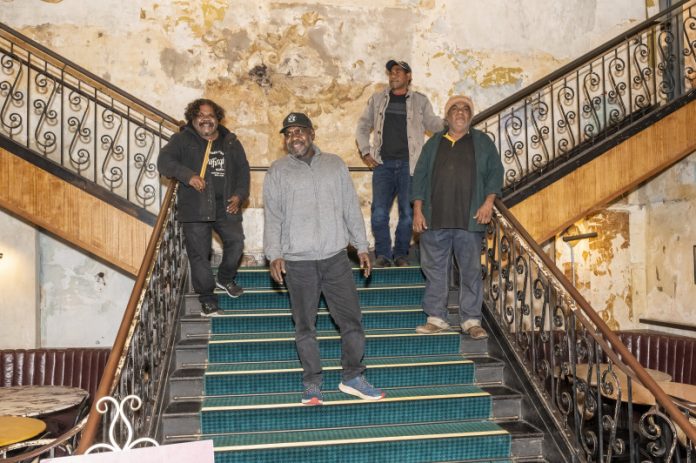 The award-winning documentary Gravel Road, depicting the debut tour of rock band The Desert Stars, will be screening at the Theatre Royal this Sunday followed by a live performance by the band.
The Indigenous four-piece, whose music fuses traditional Aboriginal culture with western rock 'n roll, navigate the drama and excitement of their journey through outback Western Australia, taking the viewer with them across some of the loneliest roads on the driest continent on the planet.
Gravel Road is essentially a character study of Desert Stars' front-man Jay Minning, whose engaging presence guides viewers into the drifting culture of Spinifex Country situated in Western Australia's Great Victoria Desert and nurtures a number of Indigenous communities, including the band's community, 'Tjuntjuntjara', and call its vast and remote surrounds, home.
Minning said he had wanted to play guitar since he was a little boy and even though he didn't know how to play guitar, the music was in him.
"I don't know where it come's from, but it somehow generates in me and makes me want to….dance.
"For me it's a big thing. Going out there and performing music out loud, it proves how strong we are."
Directed by Tristan Pemberton, who shares credit for the film with the Tjuntjuntjara Community, Gravel Road won Best Documentary Feature at Poppy Jasper Film Festival in California and Best Road/ Tour Movie at Sound on Screen Music Film Festival in South Africa.
The film made its Australian premiere in Margaret River, WA at Cinefest Oz on late last year, followed by a surprise live performance by The Desert Stars. The band received so many calls for encores it ran out of songs.
"What an utter privilege it's been to collaborate with singer-songwriter Jay Minning and the community of Tjuntjuntjara in the making of Gravel Road," Pemberton said.
"Every journey changes you, and this one left an indelible mark on all participants in the true spirit of ngapartji-ngapartji (reciprocity).
It was all made possible because of Jay's incredible passion to share his remarkable life, culture and Spinifex history through music," he said.
Catch Gravel Road followed by a live performance from The Desert Stars – Sunday November 12 from 3pm at the Theatre Royal Castlemaine. Visit www.theatreroyalcastlemaine.com.au/events/special-event-gravel-road to purchase tickets.