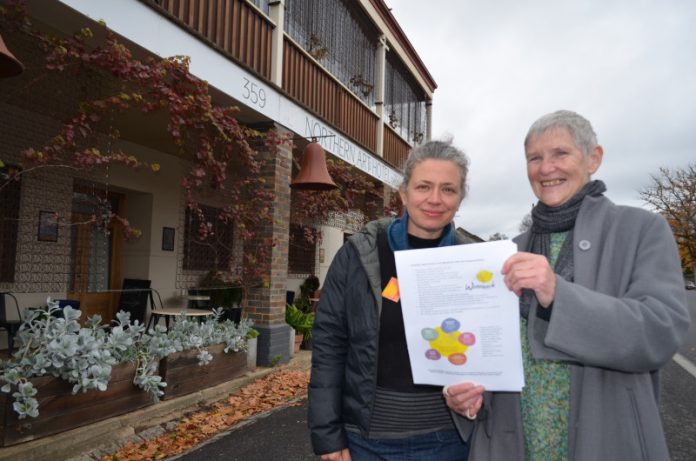 In response to the climate crisis, local coalition Wararack is launching a shire-wide, community-led effort to establish regenerative ways of living.
Wararack will launch the initial version of the Mount Alexander Community Climate Transition Plan (2023–2030) as part of the monthly Castlemaine Free University gathering at Northern Arts Hotel in Barker Street Castlemaine next Monday June 5. 
The plan outlines how Wararack will hold and support this relational and regenerative transition.
Wararack spokesperson Sharon Fraser said the transition aims to reduce carbon emitting activities; to make sure basic needs such as food and housing are available to all, and to encourage conviviality within the shire community as we adapt to an unstable climate.
"Wararack exists to support the shire community to prioritise areas for action within the community's scope to influence, areas deemed to have the most significant impacts on our emissions reduction target. The coalition welcomes everyone on board this transition," Fraser said.
Wararack encourages action to help us collectively reach zero emissions, to better prepare for climate impacts, to embrace change and to forge new ways of doing and thinking. Such activities are promoted at the Wararack website as 'Initiatives'.
"Wararack sees the transition as an opportunity for cultural growth within Djaara Country and to extend solidarity and sharing supporting our relations with one another as we move to stabilise the climate," Ms Fraser said.
The plan is holistic in terms of Djaara Country within the shire and works from our strengths – rich and unique ecological communities, and community efforts that support them.
"This transition to regenerative living is an holistic response to the climate crisis. Wararack is tasked with holding this transition to a climate-safe future for the next generation and beyond."
Interested community members are invited to come along from 6.30pm to grab a drink and engage with the panel of speakers, including Mount Alexander Shire Council mayor Rosie Annear, Castlemaine Institute Co Founder and economist Warwick Smith, and Greens Candidate for Northern Victoria Dr Cate Sinclair.
You can see and read more about Wararack and sign up for the Wararack e-newsletter at wararack.org or contact Wararack by email: wararack@gmail.com