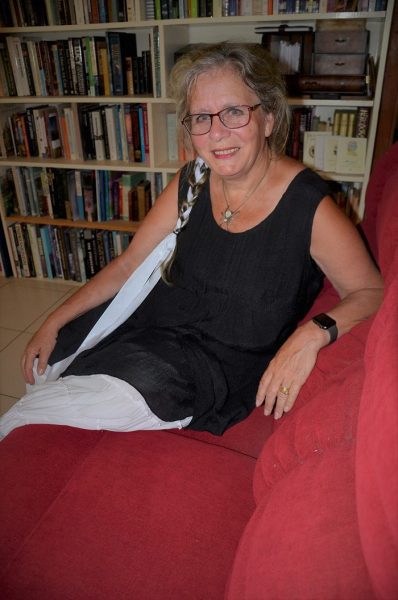 Eve Lamb
Castlemaine's Dr Lynne Kelly, has been named a member of the Order of Australia.
Particularly well known for her works on human memory processes, Dr Kelly has been named a member (AM) in the general division of the order of Australia for significant service to science education as a writer and researcher.
The fact she herself has aphantasia, a condition which means she can not visually recall other people's faces, makes her own rise to international fame for unlocking some of the most fascinating secrets of human memory and recall methods all the more remarkable.
Dr Kelly applied some of her own discoveries in memory training to help her clinch the title of over 60 Australian Memory Champion in 2017 and 2018.
But the prolific local writer last week told the Mail it was her own total absence of visual recall that prompted her to focus on memory and recall methods.
"That's why I asked the question that led to my research in the field," said Dr Kelly who now applies some of her own research in recall to thrive on learning French and Chinese, after having been "hopeless" at foreign languages as a schoolgirl.
When the Mail contacted her for response to her Australia Day honour, the local polymath, writer and researcher was self-effacing.
"I was pumped because I thought they were only for famous people," Dr Kelly said.
"But also absolutely delighted that education is being recognised as significant.
"What matters most to me is education."
Famed internationally for her work on memory and memory techniques Dr Kelly has written or co-authored many books.
Some of her best known works include: Songlines: The Power and Promise, Thames & Hudson, 2020 (co-author); Memory Craft: Improve Your Memory Using the Most Powerful Methods From Around the World, Allen & Unwin, 2019; and The Memory Code: The Traditional Aboriginal Memory Technique That Unlocks the Secrets of Stonehenge, Easter Island and Ancient Monuments the World Over, Allen & Unwin, 2016.
She has also written Grounded: indigenous knowing in a concrete reality; Rounded Globe, 2016; and Knowledge and Power in Prehistoric Societies: Orality, Memory, and the Transmission of Culture, Cambridge University Press, 2015.
Dr Kelly's fascination for the natural world and the creatures that inhabit it has also seen her author some esoteric and niche interest titles including: Spiderwoman, Hampress, 2013; Spiders: learning to love them, Allen & Unwin, 2009; and Crocodile: evolution's greatest survivor, Allen & Unwin, 2006.
The Skeptic's Guide to the Paranormal, Allen & Unwin, 2004; Exploring Chaos and Fractals, Informit, 1994; Nuclear Technology, STAV Publishing, 1991; and Practical Computing, Jacaranda-Wiley, 1987 sit among the many volumes Dr Kelly has coauthored.
But not one to rest on her laurels, however, Dr Kelly is now working with an American researcher to explore the possible role of a specific genetic mutation – the type that 'Elephant Man' had – in the development of some of humanities earliest knowledge and memory processes.
"My research since moving to Castlemaine has flourished and I'm convinced it's being part of such a sensational community and being so widely welcomed," Dr Kelly said.