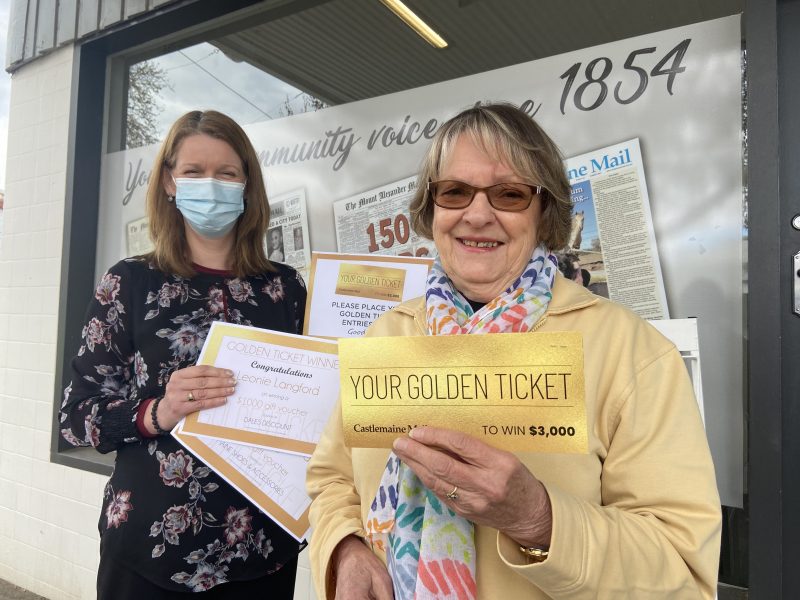 Our 2021 Castlemaine Mail 'Golden Ticket' buy local promotion major prize winner is Castlemaine's Leonie Langford!
Our Golden Ticket winners were officially drawn with a Facebook live-stream event on Wednesday this week and we are delighted to announce that Leonie claimed first prize and $3000 to spend at our fabulous Golden Ticket businesses.
Second place and $1000 went to Alf Green of Campbells Creek, third and $500 worth of vouchers went to Shirley Anderson of Castlemaine and fourth and $500 in vouchers to Lois Barry of Castlemaine.
Leonie said she was shocked but delighted when she received the call that she had won.
"I had to sit down and have a cup of tea and let the news soak in!" she said.
Leonie and her husband are currently undertaking a bathroom renovation and she said some of the money will be used to purchase tiles from Dales Discounts.
"We might get some new towels from Taylors Home Centre too and plan to support various other businesses. I can't believe it. It's just fantastic!" she said.
Congratulations to all our winners and thanks to the hundreds of readers that diligently collected their puzzle pieces over the nine weeks of the promotion and submitted their entries.
Our winners can spend their vouchers at any of the 21 wonderful Golden Ticket buy local promotion businesses which included: Barker Street Cafe, Beehave, Castlemaine IGA, Castlemaine News & Lotto, Clifford's Quality Cuts, Dales Discount, Extremity Street and Sport, Greenaway Bins. Hip Pocket Workwear Castlemaine, Hot & Crusty Bakery, JM Leech Jewellers, Maine Shoes and Accessories, Maldon Crystals, Midland Pet Supplies, Miss Maisie, Mulberrys Delicatessen, PJ's Tyres, Robertson Hyetts Solicitors, Stevens Mensland, Taylors Home Centre and The Tea Dispensary.
The Castlemaine Mail is incredibly proud to support the Golden Ticket promotion and encourage our readers to shop local.
Castlemaine Mail manager Lynda Brew thanked all the businesses which participated in this year's promotion.
"It's really great to see people getting behind the promotion and supporting our local businesses which have had an incredibly challenging 18 months," she said.
"The best bit about the promotion is the fact all the prize money goes towards supporting our local businesses. Buying local is so important to ensure our businesses not only survive but thrive".