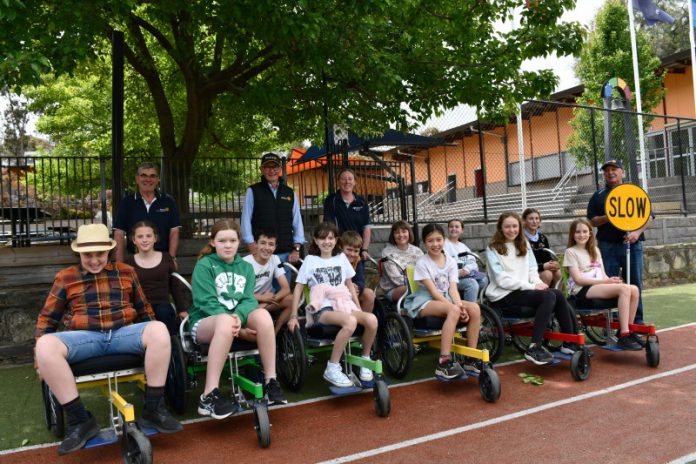 Three local primary schools have taken part in a series of wheelchair races to raise funds to provide wheelchairs to children living in impoverished communities around the world.
Wheelchairs for Kids is an Australian based not-for-profit organisation raising funds and manufacturing rough terrain wheelchairs for children living in low income countries.
The heart-warming project was founded by a Rotary club in Western Australia who have partnered with like-minded humanitarian organisations to provide more than 55,000 chairs to 80 countries around the world.
The program began in 1998 and 10 years ago Rotary Clubs began taking the program into schools to help raise awareness and funds.
Castlemaine Rotary Club's International Coordinator Hugh Forrest discovered Wheelchairs for Kids when he attended the International Rotary Convention earlier this year.
Since that time, the Castlemaine Rotary Club has successfully brought the program to Campbells Creek, Castlemaine North and Castlemaine Primary Schools.
"The chairs are made in Perth by a group of 250 volunteers," Hugh said.
"They are designed for rough terrain and are fully adjustable so the size can change as the children grow.
"Helping children, locally and around the world is a big part of the Rotary ethos," he said.
Castlemaine Primary School Grade 6 teacher Rachel Daley said it's been fabulous to have the chairs at the school.
"It's great to raise their awareness and support children from other countries.
"Plus the kids have had lots of fun racing around the oval."
Fundraising from the Castlemaine Primary School's wheelchair races on Tuesday will result in two wheelchairs being built and making their way to a child living in need.
For more information visit wheelchairsforkids.org