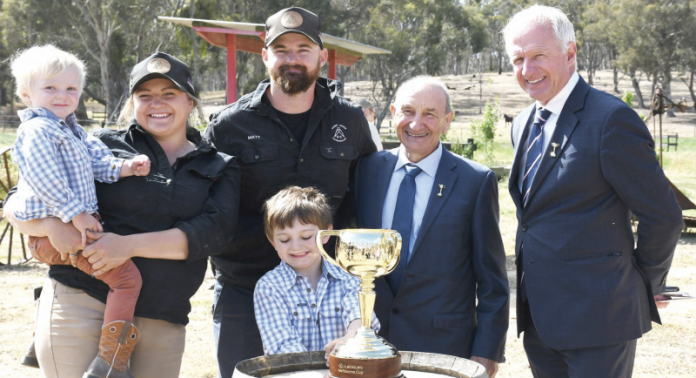 With less than a week to go until the race that stops the nation, locals had the opportunity to get up close and personal with the coveted Lexus Melbourne Cup trophy when it made a special visit to Sandy Creek Clydesdales in Maldon on Wednesday.
As part of the stopover the iconic relic and its keepers were taken for a horse drawn cart ride around the picturesque local stud farm.
The regional visit was the 41st destination in a five-month long global tour that began in June when the cup journeyed across the ocean to Tokyo, Japan.
The prestigious, 18-carat gold cup has made it's way across seven countries heading to it's final destination at Flemington Race Course on November 7.
Joe McGrath, the official keeper of the 3.8 kg cup, has travelled the world with a pair of white gloves on hand to handle the $600,000 trophy.
"The Melbourne Cup has been running for 163 years and has become a cultural phenomenon," Joe said.
"I love seeing the joy on people's faces when they see the cup."
Matt and Jamie Thompson, owners of Sandy Creek Clydesdales were excited to have the opportunity to host the cup and welcome visitors to their property where they breed thoroughbred Clydesdales, host clinics and run wedding and carriage hire services.
Jamie said she was shocked but delighted when she received word the cup would visit their family farm.
"I put the application in late one night and then forgot about it," Jamie said.
"When I heard we'd been accepted, I elbowed Matt awake and said, 'you'll never guess what I did!" she laughed.