Hi Ned, you are a well-known local artist. Can you tell us a little about your journey as a painter?
I started painting at school. I've been working with Tobias Richardson at Lot 19 for the past three years. It's the most fun part of my week.
He's taught me how to do things in the right spot and how to hold the brush right. My painting are bigger now and more complex, like the one from the film clip, Welcome to the Jungle.
Toby and I like lots of music; like rock from the 60s to the 90s, and I like painting famous musicians like the Spice Girls.
People ask me to paint for them, like James who makes coffee at the train station, he asked me to paint David Bowie. I painted The KLF too and sold it to Dan Kelly, who is the nephew of Paul Kelly and a musician.
You've had two exhibitions of your work in 2022 and 2023 didn't you?
One at Lot 19 called the Big Reveal and one at the Taproom called Revolution of Music. I sold a lot of paintings and I'm having another one in January next year in the library foyer.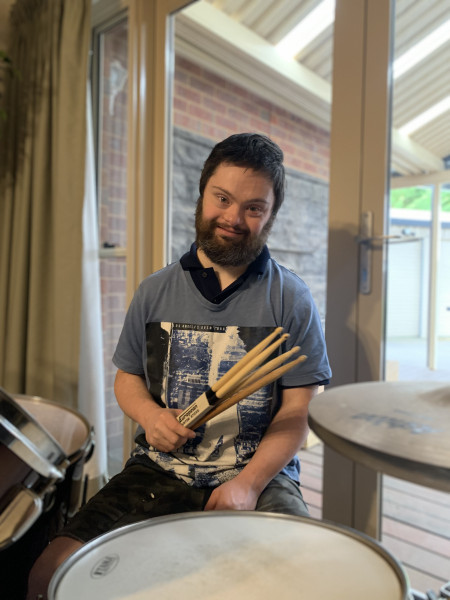 Your house is full of your incredible paintings, including one of Britney Spears and another of a scene from Bollywood. There's also a lot of medals hanging in your front window. Can you tell us about those?
I did my certificate two at the Seven Turns Studio in Bendigo, which is closed now, and I danced with Emotion 21 for three years and won medals. I went to India in 2016 with my mum and a dance crew from Melbourne. I'm really flexible. I was born that way. I can do the splits and put my leg over my head. 
And you've worked at the Taproom for two years now?
On Tuesdays it's bottling day and there's a conga line of beer bottles. You have to be careful they don't fall off. On Fridays I work in the kitchen preparing food.
You also have a show on Main FM with Able Radio on Fridays at 1pm. What's the show about?
Jakob and I do that on Wednesdays. We talk about movies, songs and bands. The last film we talked about was Barbie and we did a bunch of films called Home Alone. And I'm doing special show with Simon about my favorite show in the world, Glee. It's called Songs In the Key of Glee.
You moved to Castlemaine when you were 11 and went to Castlemaine North, Winters Flat, Steiner and spent the last two years at Bendigo Senior. What were you like at school?
I got into a little bit of mischief, hiding things.
And you've been living independently since you were 21 years old, first in a flat in the backyard at your mum's and then with housemates. How old are you now?
28.
What other interests do you have?
I like Doctor Who and I play drums and keyboard.
What sort of music do you like listening to?
There's a lot. I like David Guetta and the Black Eyed Peas. I'd like to see them both in concert but not together. I've seen Pseudo Echo at the Theatre Royal with my support worker, Jakob, and I've seen Jessica Mauboy and I met Christine Anu in 2011.
Who would your dream dinner guests be?
I'd like to have a girlfriend. Paula Abdul, Britney Spears, Shakira, Selena Gomez. I could talk about Aboriginal stuff with Christina Anu and Jessica Mauboy.