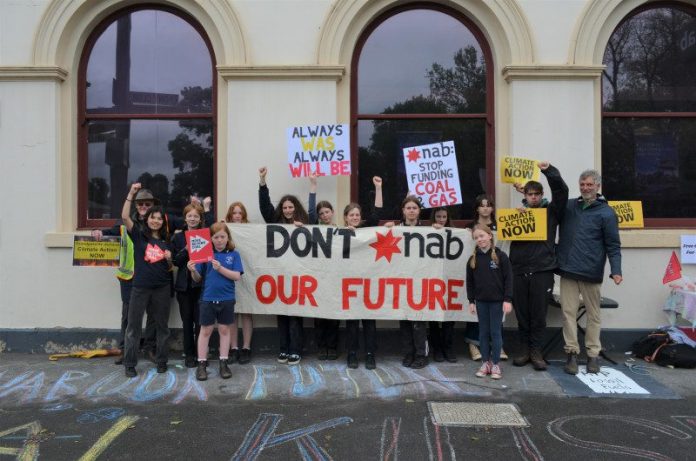 Last week a group of school students gathered outside the National Australia Bank in Castlemaine to demonstrate their disappointment and anger at NAB's continued investment in coal and gas companies.
The students are part of the movement, School Strikes for Climate, an Australia-wide student-led group of young people, united by their concern for the future of the planet.
Thirteen-year-old local Arlo Hill joined School Strikes for Climate in 2018.
"I became involved because what's happening (environmentally) is really scary and I didn't know what to do," he told the Mail.
The movement has partnered with the group 'Move Beyond Coal', a community movement, working towards stopping coal expansion, and phasing out coal by 2030.
"The collaboration is good because it means there is a range of voices from all generations getting involved," Arlo said.
A NAB spokesperson said the bank had been transparent about their total level of lending to fossil fuels, with $1.91 billion invested in fossil fuel-powered energy, $2.98 billion in oil and gas, $.46 billion in oil and gas, and a further $5.63 billion lending to renewable energy.
"NAB recognises climate change is a defining issue of our time and the important role we play," the spokesperson said.
"NAB has been carbon neutral in operations for more than a decade and we continue to reduce emissions across our business.
"We are proud to be supporting our customers to lower their emissions too and build climate resilience. We do this through the funding we provide and we are proud to be the leading Australian bank for project finance to the global renewables segment."
Protesters around Australia, both young and old, will continue to make their voices heard as they push for NAB to end all forms of finance for companies or projects that expand the coal or gas industry by 2025, starting by committing to no further financing of Whitehaven Coal (an Australian company with mining operations across NSW and QLD) and Santos (an Australian oil and gas company with operations across Australia, Timor-Leste and Papua New Guinea).